Auwe, another great Temblor:
A large (Mw=8.2) earthquake occurred off the western coast of Northern Sumatra today, and tsunami warnings were issued in nearby Thailand.
The quake struck at about 11:10 PM local (11:10 AM EST), and was about one fiftieth as strong as the December 26 event. The hypocentre was about 30 km (+/- 6.1 km) deep, and was followed by a Mw 6.0 aftershock within about 30 minutes, offset to the South-East. It is not known at present whether these events produced tsunamis, but the
rapid Moment Tensor Solution
for this event shows an almost vertical motion for the event.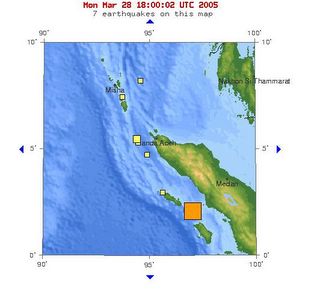 Another Indonesian earthquake today...

Labels: earthquakes, tsunami